Analysis Office 2.6 SP1 is available since last week. When you look at the What's new guide from SAP, you see nothing spectacular new. You have now a new file system setting called AlwaysDoApplicationSteps. You can use this setting to write entries into the table RSDDSTAT_OLAP afer each action without the need to close Analysis Office.
There is also a new style called SAPDataRemoved, to format cells whose data was removed with the workbook property Remove Data Before Saving. Also you have now more options for scheduling a workbook on the BI platform. 
That's it. As you can see it is not much new. I think the most what was done is bug fixing.
These posts might also be interesting: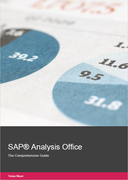 Analysis Office - The Comprehensive Guide
Analysis Office - The Comprehensive Guide is a pdf book about SAP BusinessObjects Analysis Office. It is based on Analysis Office 2.3 and contains 227 Pages.
9,99 €