It is done, the latest version of my book Analysis for Office - The Comprehensive Guide is available. It was a lot to do and so the book has now 346 pages. The 4th edition had only 299 pages. So there is some new stuff inside. The first 5 who contact me will get a promo discount code. Also I am happy if you want to write a review you get a review discount code. 
So you can buy it in the store. In future I will create more videos if there is any interest. So please leave a comment.
author.
---
I am Tobias, I write this blog since 2014, you can find me on twitter and youtube. If you want you can leave me a paypal coffee donation. You can also contact me directly if you want.
Analysis Office - The Comprehensive Guide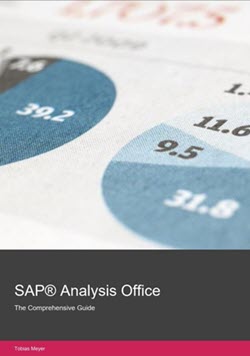 You want to know SAP Analysis Office in a perfect detail?
You want to know how to build an Excel Dashboard with your Query in Analysis Office? 
You want to know how functions in SAP Analysis Office works?
Then you have to take a look into Analysis Office  - The Comprehensive Guide. Either as a video course or as a ebook.