If you want to import source code from a text file, you can use the following code.
Sub fromTextFile()
Dim CodeModul As CodeModule
Dim i As Integer
Const Importfile = "c:\Macro.txt"
Set CodeModul = ThisWorkbook.VBProject.VBComponents("NewModule").CodeModule
With CodeModul
.AddFromFile Importfile
End With
End Sub
These posts might also be interesting:
author.
---
I am Tobias, I write this blog since 2014, you can find me on twitter and youtube. If you want you can leave me a paypal coffee donation. You can also contact me directly if you want.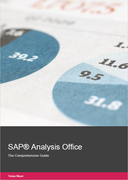 Analysis Office - The Comprehensive Guide
Analysis Office - The Comprehensive Guide is a pdf book about SAP BusinessObjects Analysis Office. It is based on Analysis Office 2.3 and contains 227 Pages.
9,99 €