The Preferred Startup Mode of Design Studio decides where an application is developed and saved.
On Local Mode all applications are only on the developer machine. If you choose SAP NetWeaver the development is saved in BW and you can publish it on a SAP Portal. More information can be foun in the admin guide of Design Studio.
Note: If you decide to skip the "logon to" dialog box, design studio starts in local mode.
These posts might also be interesting:
author.
---
I am Tobias, I write this blog since 2014, you can find me on twitter and youtube. If you want you can leave me a paypal coffee donation. You can also contact me directly if you want.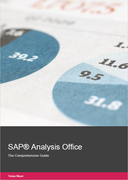 Analysis Office - The Comprehensive Guide
Analysis Office - The Comprehensive Guide is a pdf book about SAP BusinessObjects Analysis Office. It is based on Analysis Office 2.3 and contains 227 Pages.
9,99 €