In the comments of this blogpost on blogs.sap.com, Stephen Hobbs showed his idea of insert a product Image besides the crosstab in combination with the new Customize User Interface function. So I make my own thoughts how I can realize a thing like this.
My first thought was, where can I store the pictures and how can I get a product number and the picture together. The solution is very easy, I created a folder on my hard drive and put the pictures in it. The name of the pictures are the same like the product numbers.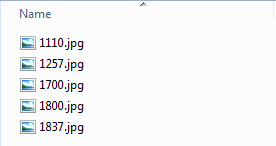 The next step is to write the corresponding VBA code, so that the pictures are insert into a cell. Open the Visual Basic Editor (ALT + F11) and insert a new module. After we have to define serveral variables.
Dim material As String
Dim i As Integer
Dim picturePath As String
Dim rowMax As Long
Dim picture As Object
Dim t As Double
Dim l As Double
Dim w As Double
Dim h As Double
Now we have to find out, how many rows our crosstab has.
'Number of rows
rowMax = Range("SAPCrosstab1").Rows.Count
Now we can add our pictures.
For i = 5 To rowMax
'Set height for each row
Rows(i & ":" & i).RowHeight = 100
'Material
material = Sheet3.Cells(i, 3).Value
'Define Picture Path
picturePath = "U:\040 Analysis Office Workbooks\pics\" & material & ".jpg"
Set picture = ActiveSheet.Pictures.Insert(picturePath)
'Get size of the Picture Cell
With Range("B" & i & ":" & "B" & i)
t = .Top
l = .Left
w = .Offset(0, .Columns.Count).Left - .Left
h = .Offset(.Rows.Count, 0).Top - .Top
End With
'Format Picture into the right size
With picture
.Top = t
.Left = l
.Width = w
.Height = h
End With
Set p = Nothing
Next
The pictures are added on the left side of the crosstab. If you want to add your pictures automatically you can use the callback AfterRedisplay.
It is just an example what you can do. So If you have any suggestions for other examples, post them into the comments.
These posts might also be interesting:
author.
---
I am Tobias, I write this blog since 2014, you can find me on twitter and youtube. If you want you can leave me a paypal coffee donation. You can also contact me directly if you want.