A really cool feature of Analysis Office 2.5 can you see in the "backend" under File >> Analysis. The function Customize Analysis offers now new options. Besides the Customize User Interface from Analysis Office 2.4 which allows you to change the ribbon menu of Analysis Office, you now can directly modify the technical settings of Analysis Office.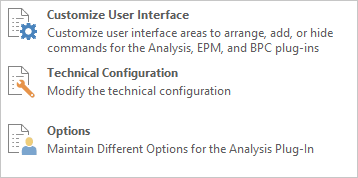 With the function Technical Configuration you can modify all setting parameters from the file system settings.
This is nice, because several properties could be edit while Excel with Analysis Office Addin is open and you don't have to search for the parameter files in the file system. You have a little search bar on the top. The only thing what I am missing is that there is a direct link to a help file oder something similar to see what the property does. Maybe someone from SAP reads this and add this feature for a future release.
These posts might also be interesting:
author.
---
I am Tobias, I write this blog since 2014, you can find me on twitter and youtube. If you want you can leave me a paypal coffee donation. You can also contact me directly if you want.