If you want to delete or rename an Analysis for Office Workbook, you have to right click on the Workbook Opendialog.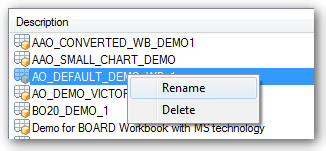 So every user can rename or delete workbook. If you don't want this, you have to authorize the object S_RS_AO. The object can be add manually in transaction PFCG.
These posts might also be intersting:
author.
---
I am Tobias, I write this blog since 2014, you can find me on twitter and youtube. If you want you can leave me a paypal coffee donation. You can also contact me directly if you want.