The API command SAPInsertLine is available since version 2.2 SP3 of Analysis Office. With this function you can insert a new line into a crosstab. There are five input-parameters available:
RuleID
Data Source Alias
Position
PositionBy
PositionBy parameters
You can define the RuleID, if you do not define an ID, the system generates one automatically. As Data Source Alias, you have to enter the data source alias, e.g. DS_1. As Position you can choose between Before, After, BelowHeader or BesideHeader. For PositionBy you can enter one of the following elements:
Dimension
DimensionResult
DimensionGroup
DimensionMember
HierarchyNode
Tuple
Here is an example code, more detail information can be found in my book. This code insert a new line after the dimension 0Material.
Dim ret As String
ret = Application.Run("SAPInsertLine", "NewLine1", "DS_1", "After", "DIMENSION", "0MATERIAL")
This example code insert a new line before the dimension 0Material.
Dim ret As String
ret = Application.Run("SAPInsertLine", "NewLine1", "DS_1", "Before", "DIMENSION", "0MATERIAL")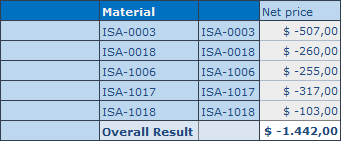 These posts might also be interesting: